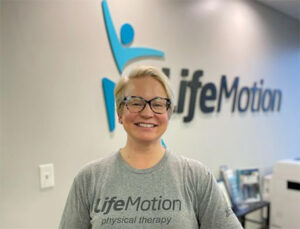 ---
Paige's Story
Injury led to inspiration, which ultimately led Paige Powell to LifeMotion. Our story begins after she tore her ACL working out, which resulted in her first experience with physical therapy. It turned out to be a life-changing experience.
"I thought, 'this would be a cool job,'" Paige says. "So, I went back to school"
Paige left her job in mortgage banking and earned her Physical Therapy Assistant degree at Tulsa Community College. That was 20 years ago this September and she's never looked back.
"Initially, when I was a new therapist, I was working outpatient," Paige says. "I started developing my manual techniques and could tell that they were really benefiting patients and decreasing their pain enough so that they could do the strengthening, stretching, and rehab activities that they needed to do to go back to their life."
That's the whole point of physical therapy to Paige: get back to your life.
"I just want to help you be the best self that you can possibly be," She says. "I want to teach you how to do that."
"One of the things that drew me to physical therapy is that it's not just, get your degree, get a job, learn how to do it, and do it till you die," Paige says. "It's very much, 'Oh, this is changing.' Or, 'Hey, I heard about this new class, or there's this new technology.' There's always something new to learn."
She was particularly intrigued by what she learned after taking a special course for Parkinson's patients.
"It's such a challenge to try and slow the progressive neurological disorder as much as possible for the patients," Paige says. "It leaves room for creativity in a way because everybody may have the same 'diagnosis,' but it presents differently, or they have a personal goal that's different."
She and her husband, Tom, had lived between Tulsa and Oklahoma City in Cushing. That's because her daughter wanted to stay in the home she grew up in. But, after she graduated, living in Tulsa, closer to her parents who live in Claremore, led Paige to look at opportunities here.
"LifeMotion's ad stood out to me because I work in the Balance Center," Paige says. "it's all neurological diagnoses; I really enjoy working with those patients."
"I must have been one of Holly's first interviews, and I got to meet the whole team," she remembers. "I could tell that they were doing things and taking it to the next level. And I definitely want to be a part of that."
That's because Paige enjoys how working with patients at LifeMotion gives her a sense of accomplishment.
"I make a positive impact on someone else's life," Paige says. "And if I can do that and say that I make a living doing that, man, that's a pretty great job."