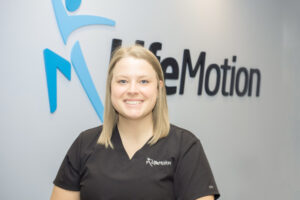 Brooke grew up in Sand Springs and graduated from Charles Page High School in 2014. She went on to play college soccer at Missouri Southern State in Joplin. She graduated with an undergraduate in Biology in December of 2018. Brooke worked at an eye clinic before coming joining the LifeMotion team in 2020. She loves working hands on with patients and seeing people get back to their daily activities.
---
Brooke's Story
We can thank a literal change of focus for bringing Brooke Ishmael to LifeMotion. It came after graduating from Missouri Southern State in Joplin with a biology degree. She had her sights set on a career in optometry but realized it wasn't a fit.
"Going to med school, you take the MCATs. For optometry school, you take the OAT. So I took it, and then I kept having lots of hesitation. I was like, 'I don't know if this is for me.'?
Brooke worked summers during school at an optometry clinic she loved but discovered she didn't love the work. That's because the doctor saw patients maybe once a year.
"It was different than what I had anticipated," Brooke says. "I wanted something where I saw clients more regularly to build more of a relationship."
Her parents not only supported her change of heart, but her mom pointed the way.
"My mom said, 'Why don't you go try out PT? It's fast-paced, and you work with people, you're active always….'"
As it turns out, Brooke had a friend who worked at LifeMotion who put her in contact.
"In June of 2020, I got interviewed and started, and I've just been working as a tech there since and enjoy it because in physical therapy, you see people more often and definitely have much more of a relationship."
"As an athlete. I had not had any surgery or injury that needed PT," Brooke says. "So, I had no clue what to expect. We have a couple of high school kids, and seeing how much change they've made from even this summer to now, it's amazing."
Unlike her experience at the optometry clinic, Brooke says she's now doing work she enjoys.
"I really love all the patients," Brooke says. "It's rewarding to see people who come in and can hardly bend their knee, and then all of a sudden they're able to bend their knee, they have no pain, they're doing good. I really love it."
Brooke's also made another unexpected change in her life since joining us at LifeMotion.
"I would never in a million years say I've kind of taken this up, but I've gotten more into running," Brooke says. "I did a half marathon in November, and then just earlier this week, I signed up for another half marathon. Dr. Bowman, Dr. Bojko, and I are going to run a marathon relay in April; it's a full marathon split between multiple legs, and different people run."
When she's not on a run or running hard at LifeMotion, Brooke spends time with her husband, Eric, and their two cats, Sophie and Sawyer. She's also become an avid baker.
"I just recently went in, and I tried to bake bread," Brooke says. "I made browned butter pumpkin oatmeal cookies, and everybody loved them, and I was like, 'Thank you. You're making me feel good about what I just made.'"
We're happy to welcome Brooke to the LifeMotion team and look forward to whatever she bakes up next.