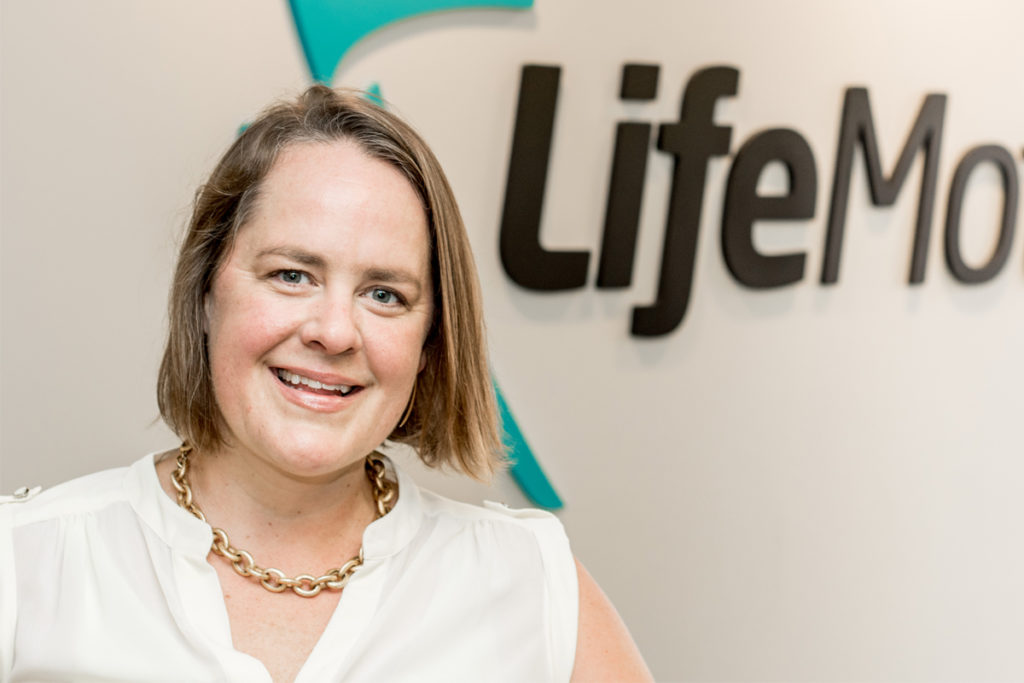 Marlow Perkins Sipes, M.S., CCC-SLP, is a native Tulsan who received her bachelor's degree from Loyola University in Maryland. After college, she moved back to Tulsa to pursue a Masters in Communications Sciences and Disorders from the University of Tulsa.
Marlow has practiced as a national and state certified Speech Language Pathologist (SLP) since 2001 in the Tulsa area treating patients who are in various stages of their neurological rehabilitation. As a SLP, she frequently treats speech, language, cognition, executive function and swallowing.
Marlow has a passion for treating deficits in executive function skills, including time management, memory, problem solving, self-awareness, which frequently need rehabilitation after suffering a concussion.
---
Marlow's Story
Stepping back often shows the best view forward. Marlow Sipes, Our Speech Language Pathologist at LifeMotion, is a living example of doing so to stay in the flow. In her case, a year of stepping back showed her the way forward into a career she loves.
Raised in Tulsa and a graduate of Bishop Kelley High School, Marlow attended the Loyola University of Maryland, where fate took a hand. While registering for classes, she requested one in sign language. Her advisor instead put her into a introduction to speech-language pathology class instead. She decided to see it through and loved it so much that it became her major.
After graduation, Marlow decided it was time for a break, a step back for a better view forward. So, she put grad school on hold for a year. She was working a job she didn't particularly care for when her sister gave birth to a premature boy. As any good sister would, Marlow stayed by her sister's side in the Neonatal ICU. As a Speech Pathologist helped her nephew develop his feeding skills, Marlow's calling was revealed to her.
"I loved watching her work with my nephew," Marlow says. "I realized this was what I wanted to do."
She went on to earn her Masters at the University of Tulsa before spending the majority of the last 20 years at St. John Medical Center. That's where her path crossed with Holly Thompson, Director of Physical Therapy of our Balance Center. Because they worked together so well, inviting Marlow to join the team to provide outpatient speech pathology at LifeMotion made perfect sense.
"I have always loved the neurological part of speech pathology," Marlow says. "It's interesting watching an infant's brain work things out."
The work of a speech pathologist covers an enormous scope.
"We address language, the ability to communicate and conduct a conversation," Marlow says. "But it's also cognition: memory, problem-solving, eye contact, social behaviors—even swallowing."
She supports Holly, Megan, Taylor and Leisha with patients who come to LifeMotion with concussions, brain injuries, and issues with executive function skill issues—as was the case with a police officer Marlow remembers well.
"She was struggling with functional daily activities due to an injury at work," Marlow says. "She was injured protecting us, and I helped her return to protecting us. It's a rewarding feeling."
That officer recently sent Marlow a note celebrating her ability to do things she couldn't before working with Marlow and her other LifeMotion therapists. She wrote, "you pushed me to be the best that I can be now!"
When she steps back from work, Marlow enjoys time with her husband and three teenage sons and staying in the flow—literally.
"My favorite place is standing in a river, rod in hand," she says. "I picked up fly fishing over the last five years. I don't care if I catch a thing—fish are the bonus."